A popular new take on a traditional workspace format.
The concept of coworking has become a very popular flexible workspace option in recent years. The model of individuals or small teams working within a shared space has been around, in various formats, for many years but its popularity has grown exponentially in the decade up to 2020, with some coworking space providers now having over 100,000 members within their membership schemes.
A coworking space is one in which individuals use an individual desk in a communal space in which services such as power, lighting, business-grade Wi-Fi, professional printing and copying equipment, kitchen facilities and so on, are shared.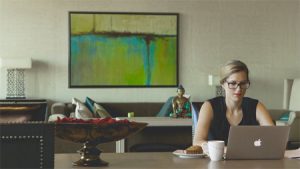 Traditionally, coworking space has been used by individuals, freelancers, small teams and startups because of the ease of access to a professional working environment without large fixed business operating costs, the flexibility, the shared energy and culture, and the networking opportunities. In more recent years, the market has seen an evolution in user type – as well as the existing audience, small and medium-sized companies and larger corporate companies are starting to integrate coworking space into their real estate portfolio – large companies such as Dell, EY, GE, KPMG, Merck, and McKinsey & Co. are utilising co-working spaces for the same reasons that attracted original users, but also to help them to attract younger staff, and to reduce their overall carbon footprint.
Certain flexible workspace brokerages provide access to co-working spaces to suit all budgets in all locations. For instance, The Office Providers CoWorking Space Search provides access to the majority of co-working space providers in all markets globally.
We, however, only list premium co-working spaces in London to suit a slightly higher budget.
The existing market for coworking space continues to grow due to the continued rise in self-employment, the continued improvements in mobile technology and connectivity, and the increased demand for flexibility, however, with a new audience of SMEs and corporate players wanting to incorporate coworking into their business models, the coworking space market is due to soar in the coming years.
Further information on the Role of Technology for co-working can be viewed on the RICS resource here.
For a tailored coworking space search and acquisition service that is completely free of charge, please contact the Prestige Offices team to advise of your bespoke requirements.
Learn more about Luxury office space in London post pandemic